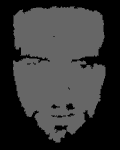 The Author
Pretty self explicatory.
Astronomy
As you might have noticed, astronomy is my main hobby. My intrest in science (not limited to astronomy) appeared quite early (age 10 or so) when I started reading my dad's popular scientific magazines ('Natuur & Techniek' and 'Kijk') and reading books from the local library. In the first year of highschool I met 2 friends with similar intrests and we decided to join the Public Observatory Urania's 'Youth Course in Astronomy'.
Ten years later, the purchase of 2 telescopes, a couple of camera's and binoculars later, I'm still as addicted as ever to astronomy.
Travel
Almost yearly youth-camps with Oberon to various locations in Belgium and The Netherlands
August 1999 - Eclipse voyage to Hungary
November 1999 - Leonid trip to Provence, France
July 2000 - Bicycle tour through south-west of Ireland
July 2001 - Hiking West-Highland way in Scotland, UK
November 2001 - Leonid trip to Beijing, XingLong and Cheng-De, China
Juli-August 2002 - Camping around Venice, Italy
November 2002 - Leonid trip to Provence, France
July 2003 - Hiking around Carcassonne, France
Juli-August 2004 - Car-tour (Brasov, Sighisoara and Sibiu) and Perseids (youth-camp in Darmanesti) in Romania
Fantasy, Science Fiction and other literature
Fantasy which I enjoyed a lot are:
Anything by JRR Tolkien
The Great Book of Amber by Roger Zelazny
Memory, Sorrow and Thorn by Tad Williams
The Death Gate Cycle by Weis and Hickman
Wheel of Time by Robert Jordan
Discworld Series by Terry Pratchett
Science Fiction I enjoyed a lot:
Dune by Frank Herbert
Foundation Series by Isaac Asimov
Nemesis by Isaac Asimov
The Hitchhikers Guide to the Galaxy by Douglas Adams
Other literature:
Brave New World by Aldous Huxley
Nineteen Eighty-Four by George Orwell
The Perfume by Patrick Süskind
The Name of the Rose by Umberto Eco
Dirk Gently's Holistic Detective Agency by Douglas Adams
The Long Dark Tea-Time of the Soul by Douglas Adams
Music
Favourite Albums:
The Wall by Pink Floyd
Perpetuum Mobile by Einstürzende Neubauten
Sehnsucht by Rammstein
In a Bar under the Sea by dEUS
The Fragile by Nine Inch Nails
Favourite Songs:
Play Dead by Björk
Gorecki by Lamb
A Forest by The Cure
Ad Mortem Festinamus by Qntal
Hurt by Nine Inch Nails
Favourite Artists:
dEUS
Pink Floyd
Björk
Bauhaus
Nine Inch Nails
Lamb
Rammstein
Einstürzende Neubauten
Daan
Sisters of Mercy
If I like to get rid of some frustrations, tensions, anger I'll listen/dance to:
Anything by Rammstein
Housewife by Daan
Born Slippy (NUXX) by Underworld
Destillat by VNV Nation (remix, original done by Das Ich)
Happiness (from ReBoot) by Front 242
Movies and Series
Movies:
Donnie Darko (Richard Kelly)
The Virgin Suicides (Sofia Copolla)
Dr. Strangelove (Stanley Kubrick)
Apocalypse Now (Francis Ford Coppola)
Life Of Brian (Monty Python)
Kill Bill (Quentin Tarantino)
Lost Highway (David Lynch)
Seven Samurai (Akira Kurosawa)
The Empire Strikes Back (Irvin Kershner)
Lord of the Rings Trilogy (Peter Jackson)
The Matrix (the Wachowski Brothers)
Series:
Fawlty Towers
Black Adder
Monty Python's Flying Circus
Buiten de Zone
Animations
Akira (movie - Katsuhiro Ôtomo)
Spirited Away (movie - Hayao Miyazaki)
The Simpsons (series - Matt Groening)
Futurama (series - Matt Groening)
Neon Genesis Evangelion (series - Hideaki Anno)